Promoting patient engagement and commitment to physical therapy: RCT demonstration of a Brief Motivational Interviewing Training.
---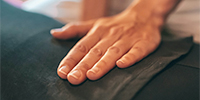 Chronic musculoskeletal (MSK) conditions are a leading source of disability healthcare costs. Both disability and costs can be reduced with routine physical activity. Brief motivational interviewing (MI) interventions are effective in helping engage patients and commit to healthy behaviors such as increased physical activity.

This project is aimed at establishing training methods to support exceptional quality patient care (strategic goal) using several innovative ideas to promote eventual scalability to industry. Motivational Interviewing is an evidence based approach for engaging and motivating patients to take steps toward health. In this project, we will use a hybrid training model with online and face-to-face training – similar to the "flipped classroom" method of learning. The total training time is expected to be 5 hours in length. MI skills will be precisely operationalized and practiced rather than focusing on high-level theory. This intervention will be innovative in providing clinicians with checklists designed to focus efforts on promoting client engagement and and motivation. These efforts should help physical therapists promote patient engagement and improve outcomes. The design will use randomization, standardized patients, and blinded coders to promote confidence in the results. The team includes experts in motivational interviewing (Drs. Brad Lundahl and Rich Landward, CSW) and expertise in MSK conditions and physical therapy (Dr. Anne Thackeray, COH).
---
Current Status
2021-09-15
Abstract:
Aging adults face a number of challenges engaging in and sustaining physical activity including strength loss, joint restriction, and pain. Coach2Move is an evidenced based intervention combining physical therapy expertise with motivational interviewing (MI) to improve physical activity in aging adults. The purpose of this project was to develop and examine the effects of a Coach2Move MI training program on physical therapists' beliefs and behaviors. In a collaboration between physical therapy and social work, we developed training modules to provide physical therapists skills in using MI to support patients in changing physical activity behaviors. Modules included synchronous and asynchronous learning, discussion boards, and clinical skills challenges. Physical therapists were recruited from two health systems and randomly assigned to training or no training. We examined the impact of training using pre-post surveys and observations with a standardized patient. Twenty-nine participants completed the study. The training significantly increased physical therapists' confidence in using MI and supporting a patient in changing their physical activity. Results on application of these skills are still being assessed through video coding of a standardized patient.
Collaborators
Anne Thackeray
College of Health
PhysicalTher/AthleticTraining
Project Owner
Richard Landward
College of Social Work
College of Social Work

Brad Lundahl
College of Social Work
College of Social Work

Project Info
Funded Project Amount
$30K
Keywords
motivational interviewing, implementation science, physical therapy, rehabilitation, chronic conditions, physical activity
Project Status
Funded 2020
Poster
View poster (pdf)